Through so many years, Cub's model has been changes and has gotten new series.

At that time, do you know what happened in the world or Japan? Today, I will talk about it by simple way for you guys easy to understand.

1952
Showa period 27th
King Elizabeth II enthroned King of England.
Yoshio Shirai is the Japanese who became the first boxing world champion.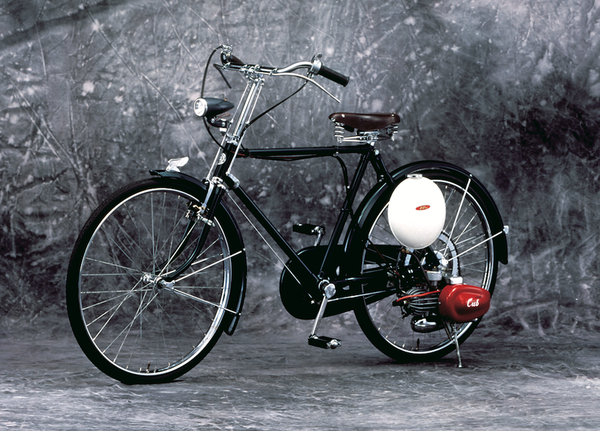 CUB F
CUB F is equipped with a red engine on a bicycle. Two-stroke 50cc bike assistance engine received the name Cub (Baby Beast).
1958
Showa period 33th
Tokyo Tower, A radio tower (333m) was completed.
The Nissin Food has started to selling Instant Noodle.
Shigeo Nagashima has debuted.
SUPER CUB C100
It was named "Super Cub" because it went far beyond the red Cub engine. The victory of Super Cub starts here.
1964
Showa period 39th
Tokyo Olympics has been held.
Tokaido Shinkansen was opened.
SUPER CUB CM90
The lineup is the first 90cc model of the Cub series. Compared to C100, frames etc. are enhanced.
1966
Showa period 41th
The Beatles was coming to Japan.
Abolished 100 yen notes.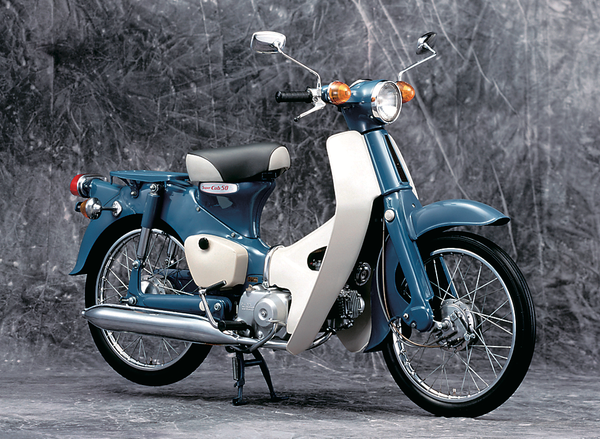 SUPER CUB C50
Although the C100 was populer to be known and sold, Kore had improved. OHV changed to an OHC engine.
1968
Showa period 43th
The 300 million yen robbery happened.
The Weekly Shonen Jump was released.
Game of Life was going to be sell by Takara.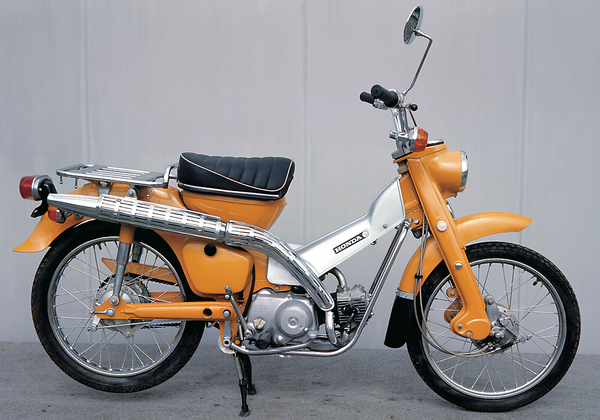 SUPER CUB CT50
This is the first time that a submission engine has been adopted for two wheels. It is one with an off-road taste.
1971
Showa period 46th
The dollar crisis (Nixon shock) occurred in the United States.
Nissin food launched cup noodles.
SUPER CUB DELUXE C50DX
Equipped with a position lamp derived from what is called "Andon Cub". This DX model features a sheet of flowers.
1978
Showa period 53th
20 years since Super Cub was borned.
The Candies was disbanded.
Professional baseball, giant king player achieved 800 points out of the total.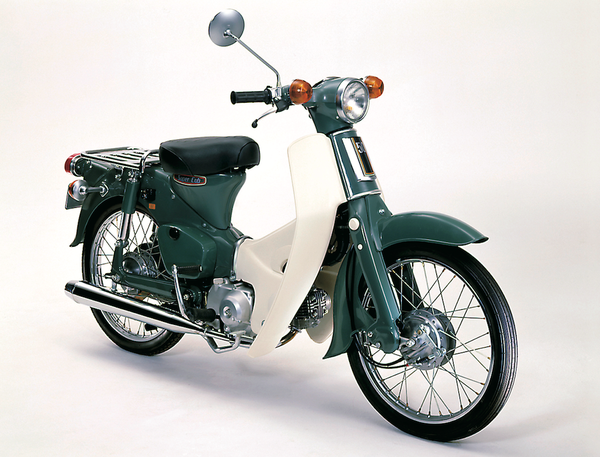 SUPER CUB C50
20 years from the release of C100. Changed into the N-1-2-3 model engine like the current Cub.
1981
Showa period 56th
A licking cat is popular because the cat has a pretty figure that says "I'm sorry".
CT110
The third trekking bike following the Silk Road and Ihatov. It was equipped with a large capacity gas tank of 5.5 liters.