The fourth person of "The person pf CUB", is M & F Cuby's owner Kageyama, who has a shop in Aichi Prefecture. As you can imagine from its name, Cuby (Cub), it opened in Aichi Prefecture in 2002 as a cub specialty store.


Profile of Mr. Yoshinori Kageyama
A carpet based around the more and more Cub of around 1970 was the daily foot. We also plan and operate a "Mon cub endurance" race where the cub and monkey run together at the Mihama Circuit.
Shop Information
M&F Cuby
Address ... 56-1, Hamaike, Nishiyukicho, Toyohashi-shi, Aichi
Tel…0532-26-8006
Open Time… 11: 00 to 19:00
Regular holiday: Monday, first Sunday, race and other event days
URL…
http://cuby.jp/
Cubs can express their own style.
「When customizing, there is no "standard" turnip. There is no rule.
For example, monkeys and ducks have some basic style.
There is no cub at all, and there are ten colors. In terms of being able to make use of my senses, I think that it is an excellent material. It is a pure white free canvas.」
It is said that it is inspired by beach cruisers in the United States, etc., and it might be such a relationship that the car produced by Mr. Kaby has a hot rod atmosphere like Harley Custom somewhere. The strength of the shop is that you can rely on both the hardware and software, the knowledge of the engine you learned while working as a mechanic and the processing technology and knowledge you got when you were a mechanic.
All parts with more than 1500 points are imprinted!
 Cuby handles over 1500 custom parts, including original parts, in the online shop. Surprisingly, Mr. Kageyama always wears and impressions all of them!
The commitment that only the parts that are actually tested and judged good are sold !! The part of Mr. Kageyama's favorite is a front cushion with stability spring for the original Cub (13,200 yen + tax). It's not surprising that people who drive long distances and Cubs that they often ride every day want a more comfortable ride.
「This part has been completed with the cooperation of the heavy cub user, and it is a truly confident work. The normal fluffy ride has been improved and you should see the difference. However, this part does not change its appearance even if it is installed, and although you may not be able to get the satisfaction of appearance, the difference in ride comfort is obvious, so it is one of the parts you should definitely try.」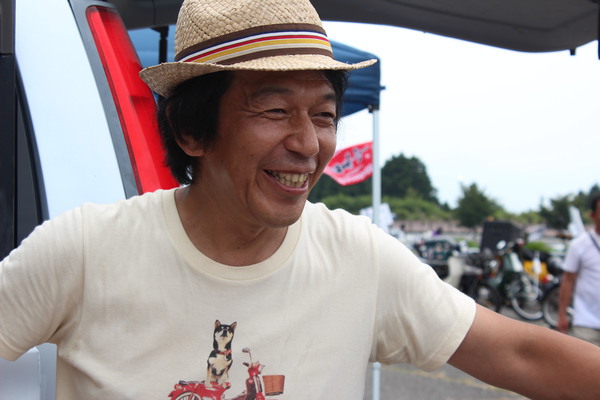 It's been 17 years since He created and released cub parts. Mr. Kageyama is still discovering the potential of custom Cubs!