When you hear the word "My Way", a lot of you guys will know, or guest out that it is a Cub specialty store. The actual store itself has already been closed, but My Way still exists based on business trip services. Today we will interviewed the owner, Mr. Kenji Osawa.

Profile of Mr. Kenji Osawa
Osawa is a rider with a Motocross International A-class license and is particular about customizing "kawaii" bikes.
Shop Information
My Way
TEL…070-6674-1108
URL…
http://ameblo.jp/myway-zeus
Fashionable bike shop was still early in those days!?
 Osawa Cycle started on behalf of grandfather. The shop was taken over with the father and Mr. Kenji. At first, it wasn't a cub specialty store, but a store that handled a variety of motorcycles. In 1920, when he set up a motorcycle shop in the middle of a fashionable city called Dogenzaka in Shibuya, Tokyo, he was often surprised, saying, "A motorcycle shop in such a place !?"
「Kenji's grandpa hears very often from his peers that he was a cool biker. Because of such an environment, I grew up surrounded by motorcycles from the time I was attentive. The first time I rode a motorcycle was when I was 6 years old, maybe Honda's Road Pal.」
 He have been riding motocross with Suzuki's RM50, and He've been riding a lot of motorcycles for a long time. After that, the bike boom came, but the era entered the heyday of racer replicas.
「At that time, there wasn't a place where motorcycles were fashionable. It may have been a little too early. However, the desire to make cute things has not changed since before and now. It seems that there is cuteness in coolness. That's why I am particular about complete bikes.」
You can also purchase custom parts for the Cub that Osawa straddles. The smoothing handle (¥ 20,000 + tax) is an important item in this style. The turn signal is stuck to the base of the machined aluminum.
 During the heyday, they were selling only 50 used cars, and it was said that more than 80 cars were sold in a month.
However, as used and new cars gradually became unsold, then we began to make custom cars.
The seat is for the 50th anniversary limited edition of Little Cub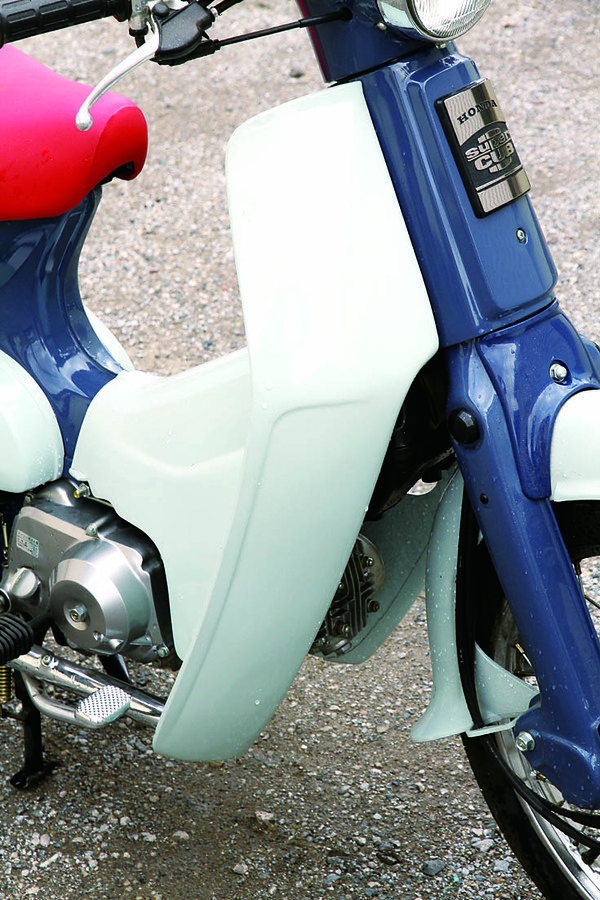 A leg shield made with FRP to paint. This is a very convenient item for customization.
My Way was a bright, cafe-like store, not a dirty store with a stubborn father like a motorcycle shop in the city (laughs). It was a restaurant where nature and everyone gathered. Surprisingly, 80% were female customers! It is gorgeous and good. However, in Shibuya and Harajuku, the crackdown on bans has led to the disappearance of those who were easily riding stylish cubs.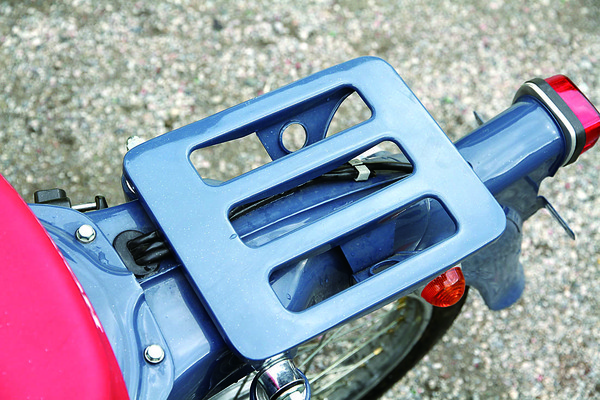 Small carrier B (¥ 16,000 + tax) adds retro. Based on the Super Cub 50, it is a custom-made C100 style vehicle The current Super Cub cannot make it, but the Little Cub can make C100 style. Please contact us.
To be continue in part2...