It is said that if there was no Super Cub hit, there was no 1959 Isle of Man race entry or 64 F1 entry. When there was no Internet, various advertisements still had been made.
Please take a look at the advertisements.
* Data from those days are posted with the cooperation of Tokyo Graphic Designers, who is currently producing Honda advertisements.

"Far away, but close ... that is country road"


Honda's Super Cup superseded the old complains. The country's snowy roads rushed all at once. It's light, fast and strong. Farmers who pile up spring can enjoy the fun of driving even during their daily commute and business ... A turnip that runs in the countryside where there are still few paved roads. The range of action is expanded.
Nickname is Mr. Honda ...
In the morning and evening, we worked hard together. Of course the younger generation students, are also very popular with PTA.
Lightly! Fastly! Smart! That bike can runs 90km with 1litter of gasoline ... Almighty's success, performance and efficiency are always get on top ...
"No need to became busy anymore..."
For busy farmers, Honda's Super Cub is a convenient and affordable tool that can help farmers move and work daily. It is a light, fast and comfortable car on rural roads ... the day when spring is coming ... An ad was published in the weekly Bunharu's newspaper of the February 29, 1959 issue. Listed price at that time was 30 yen.
"Go and Stead My Youth"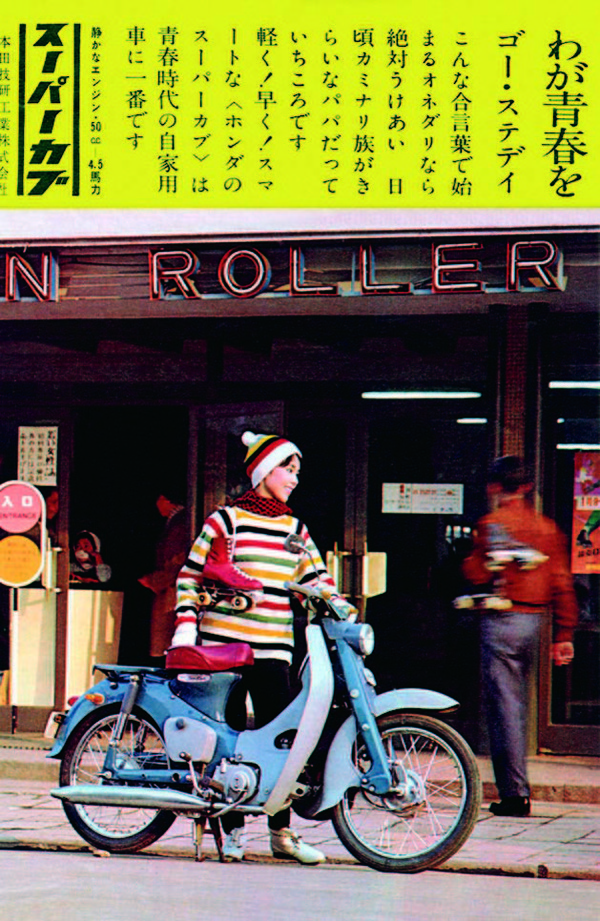 If you want to start with such a secret word, it's definitely a good idea. Lightly! Fastly! Smart, Honda's Super Cub is the best choice for a private bike when you were young ......A girl is riding a cub. She had got it from a father who hates bike!
"A great "walking" on the road is going on....
……This is an advertisement with no text in the photo. The left hand holds a dog's leash and driving a Cup in snow weather. This is also unique to Super Cub with a blinker on the right. Humans are taking a walk with a Cup, right?