It is said that if there was no Super Cub hit, there was no 1959 Isle of Man race entry or 64 F1 entry. When there was no Internet, various advertisements still had been made.
Please take a look at the advertisements.
※Data from those days are posted with the cooperation of Tokyo Graphic Designers, who is currently producing Honda advertisements.

"Get better day by day..."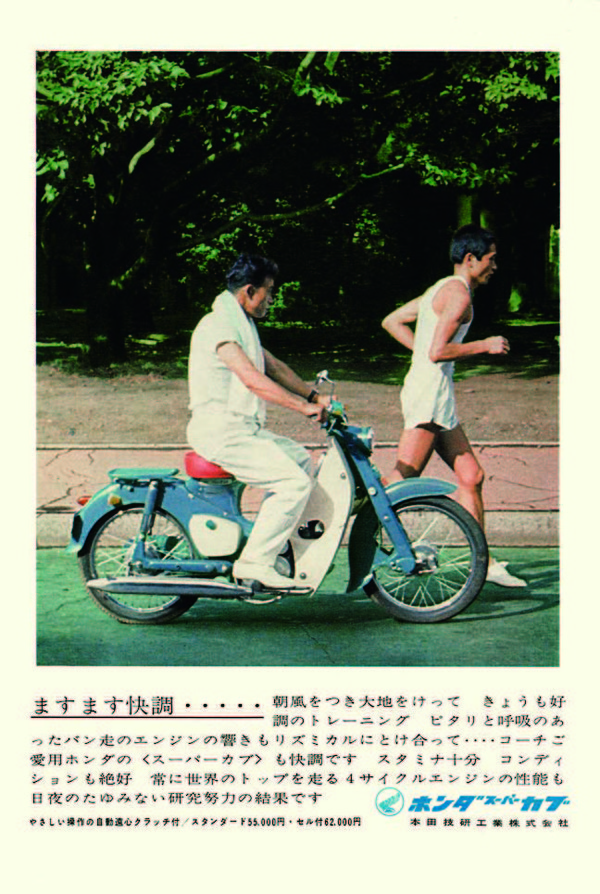 Let's go out and take the morning deep breath. Today is good for training too. The sound of the breathing running engine is rhythmically matched. The coach's Honda Super Cub is also in good condition. The performance of the top four-cycle engine is the result of constant research efforts day and night .... It is a technique that can be achieved because it is a Cub that does not require clutch operation and can run stably even at low speeds.
"Couple can get fun with..."
Speed limits are increased by 10 km and two people can ride on Cub. With a 5 horsepower engine, the maximum speed is 75 km / h, and costs 57,000 yen. This is an advertisement in 1961 that aired a movie titled "Throne Bet", a world motorbike race recording hot battles like the Isle of Man TT race where Honda won. gender.
"Jump up..."
Dad agrees with the boy's plan! Go straight to Marineland ... Two new things have been added to the Super Cub in our lives. ......"Jump up!" It's the catch that shocked me the most. The impact is amazing!
"Hurry!! Hurry!!"
It's time to deliver quickly, but turnips are so powerful. Surprisingly economical, stable ride comfort cubs enjoy the heatless days !! An advertisement that was mainly adopted by boys with the icecream. It's so cute!
"Here is one piece..."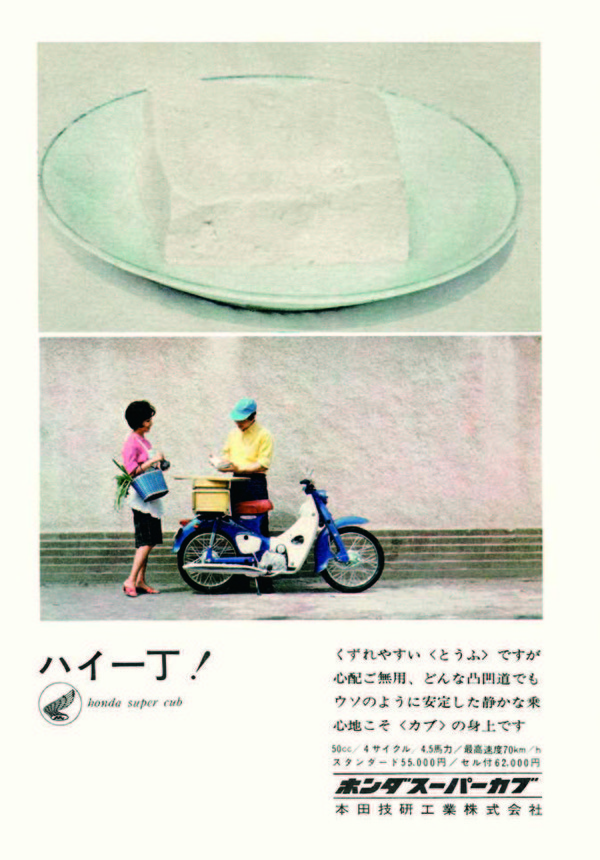 "Tofu" is easily to be broken, but don't worry, any rough road is a stable and quiet journey as a lie ... This is one of those who was shocked next to "Jump up!" Tofu image is main ...
"Cub with top..."
Absorbs fresh air in the morning, shortens commuting time, and features excellent performance and easy to operate ideal design.
By the way, the small photo at the top is a photo on a time card.