Many young women are appointed in the advertisement for Cub. The shooting location is mountains and the sea, regardless of the season, summer or midwinter. You can see that you can go with a Cub anytime, anywhere through those advertisement.
※Data from those days are posted with the cooperation of Tokyo Graphic Designers, who is currently producing Honda advertisements.
"Happy to waiting for..."

……Isn't it true that a woman who is excited and hopeful is waiting for someone with a small bouquet in her hands?
"The point suddenly spread ... from far away ... I'm running ..."
A fun frame of youth captured by a young photographer.
……The great thing about this ad is it doesn't press a word in the text. The cub woman in the wheel cap looking so fun.
"The sun is great pretty..."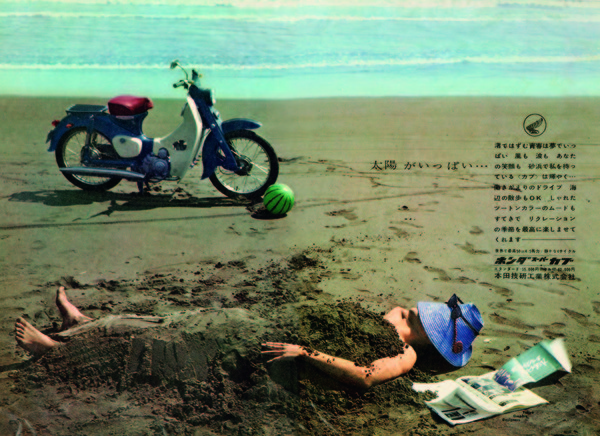 The youth boiled off with lots of dreams, the wind, the waves, your smile, the Cub waiting for me on the sandy beach ... Workable drive, seaside walks are OK, and the two-tone color mood is wonderful, and the recreational season is the most entertaining.
……Will the cub run on the sandy beach without stacking? The Cub looks good on the sea too.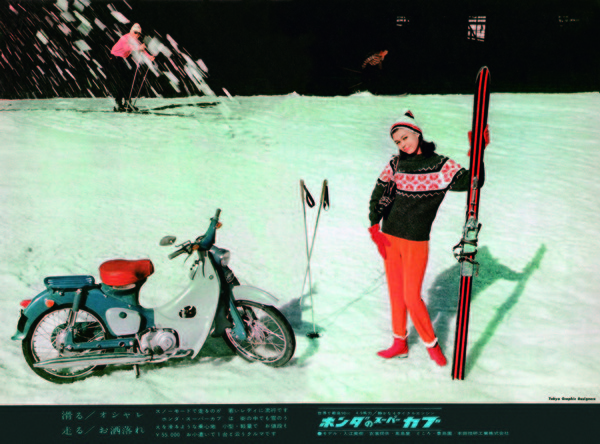 Running in snow mode is a trend for young ladies. The Honda Super Cub is a bike that rides on the snow in the city. It is a small and lightweight Bike that costs about ¥ 55,000.
……You are ridiculous thinking that "It has no chains!". It's like a Cub with smooth performance, it feels like it slips on snow.